Dig it! 08 - Gunter Saxenhammer « The nth degree » (2014)
Oui, Gunter Saxenhammer. Inattendu ? C'est vrai que cette fois, le DJ écossais a failli ne pas revenir. A faire les cent pas au bord du gouffre, quand le doute épuise l'esprit et vide l'énergie, on perd facilement l'équilibre. « The nth degree », ou l'art de flirter avec les limites. Du son, de l'existence.
Paradoxalement, Saxenhammer livre ici son enregistrement le plus souple. Les apparences sont trompeuses, sans doute. Car quand la tension monte – et elle finit par monter – c'est à la manière d'un torrent qui gonfle. On n'imagine jamais sa puissance tant qu'on n'y a pas été confronté. Et la meilleure façon pour s'en faire une idée, c'est de se laisser emporter, casque vissé aux oreilles ou bien agrippé à son caisson de basse comme sur un radeau de fortune. Traverser ainsi les cahots techno d'Ugandan Methods, se faire flasher en compagnie de La Peste puis succomber aux voodoo breaks de Cut Hands pour terminer en fusion stellaire avec KK Null, Cindytalk et le terrible remix de Violetshaped par JK Flesh. Auparavant, on aura savouré l'agencement de formes matelassées, rebondies autour desquelles s'enroulent de subtiles fumeroles au parfum de groove délicieusement toxique. Raime, Violet Poison, Shackleton, à chacun son tour de platine comme on ferait tourner le blunt. Entre cette première partie sur coussin d'air et la dernière en déluge de sensations fortes, Saxenhammer assouvit sa passion – et la nôtre – pour l'electro aux reflets d'acier pratiquée ici par Andrea Parker, Wee DJ's et Funkstörung (que de souvenirs!). Et n'oublie pas un détour par le dub flegmatique de l'inusable Meat Beat Manifesto, sa marotte du moment, ou de toujours ?
« The nth degree » bénéficie d'un artwork sur mesure signé Frame Of Mind (aka Undacova & Atomhead), dont l'obsession pour les fractales semble faire écho au trou noir que creuse Gunter Saxenhammer comme le diamant s'use et s'enfonce inexorablement dans son sillon. Toujours plus loin. Jusqu'à la rupture.
Tracklisting :
Mika Vainio - Sub-atlantic - PTYT076
Lustmord - Er dub us (Lustmord Remix) - HH666-189
Raime - Exist in the repeat of practice - BLACKESTLP001
Violet Poison - Babylon suicide - NAIL004
Shackleton - In the void - SKULL010
Ben Milstein - Patience - BOT002
Andrea Parker - Invasion - TB029
Distorto - Distorto_1 - Dis01
The Wee DJs - Breathe - TB020LP
Funkstorung - Beinh5 - MAS02.09
Meat Beat Manifesto - Waterphone - DUKE155DJV
Orphx - Simulacra - ¥047
PSI Performer - 1948 (Scorn's closed season mix) - K2O-8
Andrea Parker - Unconnected (edit) - TB028
Cloaks - R.F.I.D. (Ancient Methods Remix) - 3BY3007
La Peste - Pure techno - REV009
Ugandan Methods - She belongs to eternity - AM06
Saoulaterre - Flash formes - U.BD45.07
Cut Hands - Madwoman - DN57
ADC - Steel flies - Index0.2
KK Null & Cris-X - 05 - CXRECORDS004
Walter Gross - Angeldust - SBHLP002
Cindytalk - To a dying star - eMEGO167
Violetshaped - cX310 (JK Flesh Reshape) - VPN004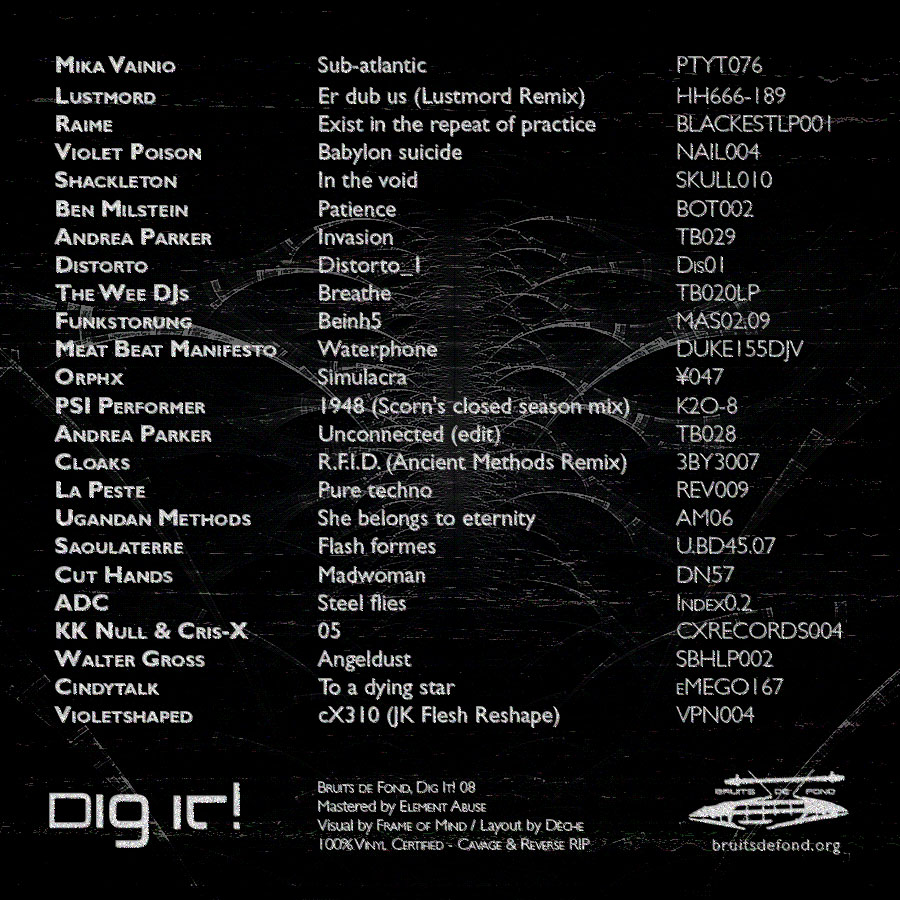 Mastering : Element Abuse
Artwork : Frame of Mind
Layout : Dèche
Liens :
Chroniques / reviews :
El noble oficio de selector ha ido gradualmente diluyéndose entre un tsunami de selecciones sin mucho que aportar, homogéneas, sin derroches de personalidad y que no van más allá de la mera radiografía de intereses propios y de satélites amigos; no dejan de ser productores que muestran sus gustos pero que no van más allá en cuanto a técnica o precisión de artesano en las mezclas y que utilizan sus "mixes" como mera herramienta de promoción y de posicionamiento.
Por suerte quedan algunos selectores que siguen enalteciendo el enlazar vinilos como una forma de arte, el seleccionar tracks siguiendo una progresión y una lógica aplastantes. Selecciones que puedes escuchar hasta desfallecer sin encontrar un mínimo error, un mínimo titubeo, que te engullen desde el primer compás.
Gunter Saxenhammer sigue mostrándose inalcanzable tras dos platos y una mesa de mezclas; poderoso y tenebroso, rebuscando y uniendo ritmos imposibles, cazando al vuelo cualquier beat y enseñando lo que un historial de muchos años en la sombra y un gusto exquisito son capaces de fabricar; además de una técnica al alcance de solo unos pocos y mucho trabajo de preparación para ejecutar semejante mix que entregó a la plataforma francesa Bruits De Fond.
Las señas de identidad el escocés están ahí, fácilmente reconocibles para el que siga disfrutando de escuchar a un tipo anónimo darlo todo tras unos platos.
Planeta Modular
The series of eclectic high quality digital mixes continues with a new mix by Saxenhammer who released three mix CDRs on BdF before. This time he plays an impeccable selection of current experimental broken bass music and techno to faster hardcore, flashcore and noise breaks. Some of the tracks are from Cloaks, Andrea Parker, Raime, La Peste, Saoulaterre, Ugandan Methods and Violet Shaped. The latest mix is from El Pibe, who delivers a very gloomy composition of industrial noise and techno, drones and broken beats. Included tracks are by Andrew Liles, Diamanda Galàs, Ślepcy, Subliminal, Lorenz Attractor, Vromb, Le Talium and more. All mixes can be found for download or stream on the Bruits De Fond website.
ZFE - Datacide