Dig it! 01 - DJ Oblique « Flies with vinegar » (2012)
Direction Seattle avec notre coup de cœur de l'année passée. DJ Oblique a les goûts les plus avisés du moment en matière d'électronique radicale. Pas étonnant qu'il ait été repéré par nos regrettés homologues madrilènes de Planeta Modular mais aussi par le crew Collide.scope. Reprenant le groove industriel là où Saxenhammer l'a - momentanément - laissé, Oblique impressionne par sa ferveur, son entêtement même pour mettre à jour pépites, éclats et véritables veines electro noisy, qui bien souvent n'étaient jamais parvenu jusqu'à nos ouïes. Plus tête chercheuse que technicien, le garçon compose d'énergiques sélections dans lesquelles déferlent ses météorites sonores, fusées éblouissantes et autres bombes incendiaires.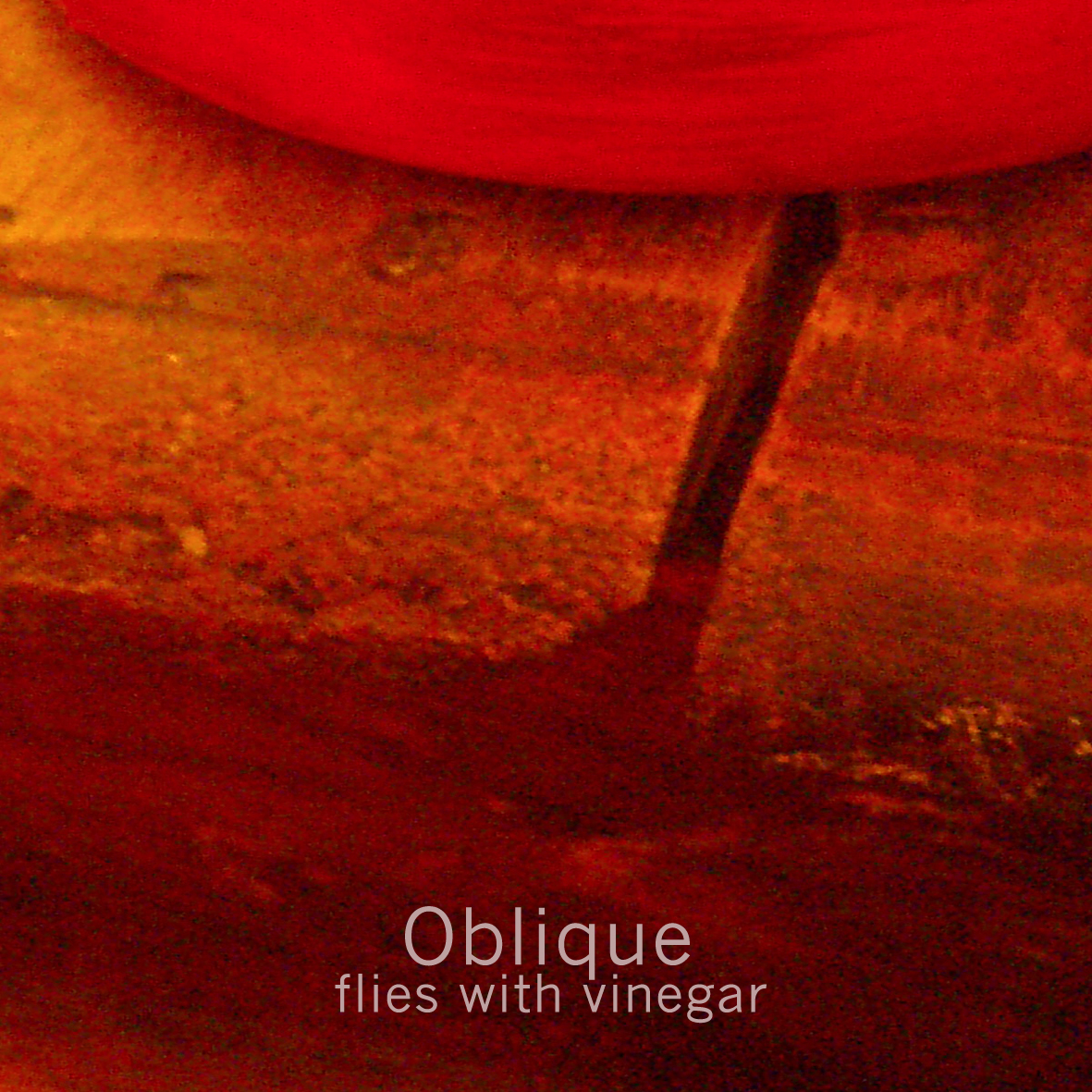 Première proposition, qui donne déjà envie de lui commander la suite, « Flies with vinegar » étale son tracklisting sur une quinzaine d'année, depuis l'immense « Sickwave » des frères Healy, paru sur UFO en 1997 et que nous avions chroniqué dans L'Ultime Atome - avec une flamme jamais éteinte depuis lors, jusqu'aux productions hautes en couleur de la jeune garde, de Cloaks à Dishelved en passant par le new-yorkais Silent Killer et le londonien Perc.
Pariant sans grande difficulté sur l'addiction rapide des petits actionnaires de notre manufacture, et par altruisme, nous avons pris soin de leur donner quelques tuyaux sous forme de liens - ci-bas - pour retrouver Oblique et ses sulfureuses sessions sur la toile. Tandis qu'en bon gestionnaire de patrimoine, nous le gardons avec précaution dans notre giron !
Tracklisting :
The Binary Collective - Sin Skin I (XXX001)
Disheveled - I Live in This Hole (THAC0AC5)
ASC - Dysfunction (AUXTR005)
Amit - 68000 (SUICIDECD009)
FZV - Metal (FZVCD01)
Emptyset - Return (SUBCD001)
Sada - Rampage (SSTMKS006)
Somatic Responses - Fryday (¥796)
Dead Fader - 00---- (MEOW184)
Electromeca - Electric (ACPR004)
David Morley - Angels (DS93 007)
Scrot - Head, Shoulders, Knees and Toes (AMPUTATE 04)
Sharps Injury - Cratify (THAC0AC5)
Aphasia - Atmos (BdF 01)
Death Abyss - The Hermetic Antagonist mix two (MAK 25)
Perc - My Head is Slowly Exploding - Ancient Methods remix (TPT045)
British Murder Boys - Don't Give Way to Fear (CBX010)
Aphasia - Lavage de Cerveau (BdF 08)
Division - Thru the Heart - Ekaros remix (ABSTRACT002)
Drexciya - Beyond the Abyss (UR-026)
Al Tourettes - Bodies Collide (KRAK012)
Flint Kids - The Cantor Dust - polycephalic mix by Monster X (AKT003)
Mouse - Klat (HOM005)
Somatic Responses - Sickwave (UFO 005)
Cloaks - R.F.I.D. - Volt Music remix (3BY3008)
Pan Sonic - Tykitys / Cannoning (PTYT 007)
Instra:mental - No Future - Consequence remix (NONPLUSDIGI001)
Grischa Lichtenberger - 0106_13_LV_3 Sand Ausheben (R-N 112)
ASC - Leviathan (EXIT029)
Sileni - Failspan (SUBTLE004)
Graphic & Slide - Crash Kit (OSRCD001)
Silent Killer & Scorn - Puncture (18M OHM)
J-Stat - Crocodile (NRFTR 7.03)
Xanopticon - Psicicite (¥054)
Christoph de Babalon - Calls of the Drowned (RestRoom 12015)
Vile Enginez - Prototype C 07 (SUB/VERSION 305)
Revolutions Per Minute - Sub Natural (RDM01)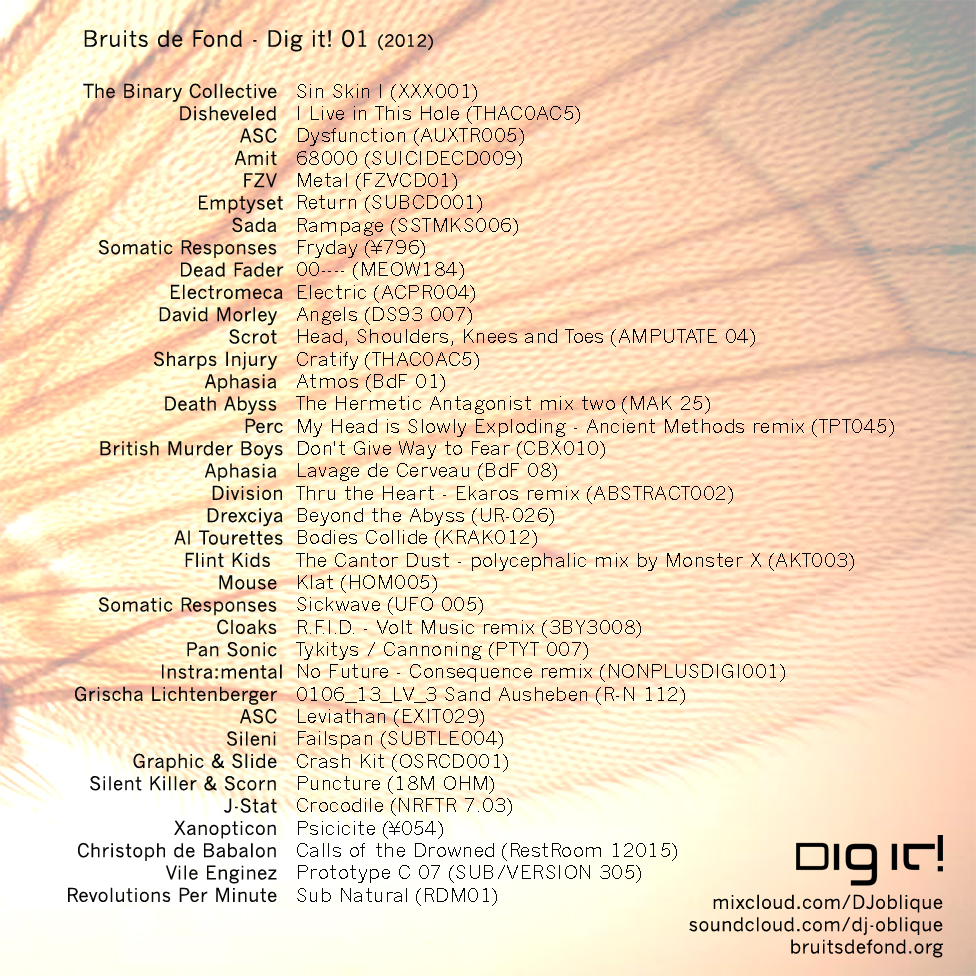 Artwork : MoA
Liens :
http://www.mixcloud.com/DJoblique
http://soundcloud.com/dj-oblique
Chroniques / Reviews :
Flies With Vinegar is the 1th and Death Canal the 5th mix in the Dig it! digital mix series on French experimental hard electronics label Bruits De Fond. Dark industrial techno and bass music,broken beats and rhytmic noise,some rap parts and so called breakcore thrown in too, flawless mixed as always by DJ Oblique who makes the balancing acts between vinyl and digital releases and puts it together to a well selected mixture. He also released earlier mixes on Planeta Modular where Gunter Saxenhammer made the last contribution so far with his Mix from 2012. A perfect DJ aswell, he mixed an excellent selection of hard, experimental, broken electronic music. A good example of the power and diversity of this in most parts undefinable music.
Zombieflesheater - Datacide

Devastadora selección la que nos llega desde Seattle a través de nuestros aliados franceses de Bruits De Fond. Una selección impecable y coherente a manos de un cada vez más activo Dj Oblique. El hilo central de mix es un todo radical y salvaje, mecido bajo un intenso groove industrial que mantiene la tensión a base de ráfagas constantes de atrocidades rítmicas y brutales; todo ello hilvanado mediante rápidos y certeros cambios, con un rango de bpm´s que el selector americano maneja a su antojo; techno, ritmos rotos, electro, breakcore, certeras dosis de noise y un abanico de sonoridades que fijan nuestra atención en cada compas incendiario y rabioso que vociferan nuestros altavoces. Un vistazo rápido al impresionante tracklist y todo queda dicho a la espera de que comience la batalla final donde solo los más valientes lograran sobrevivir.
Planeta Modular